04 septembre 2017
Bjr.
Comme vous le savez si vous me connaissez vraiment très bien ou si vous êtes simplement un-e lecteur-ice de ce blog particulièrement perspicace, le jaune est ma couleur préférée. Voici donc un maquillage réalisé autour de cette couleur et aucun endroit de mon visage ne sera épargné.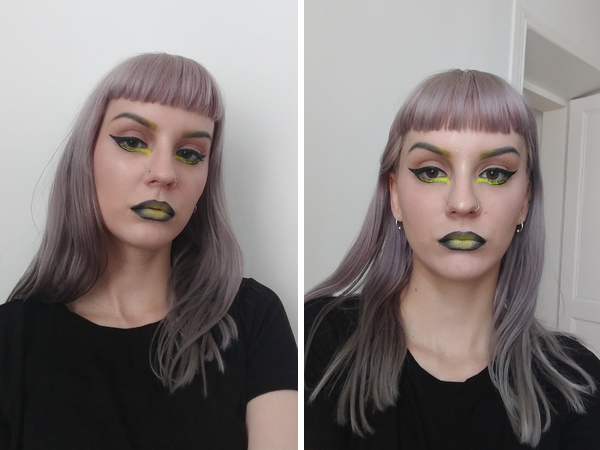 Teint
- Fond de teint Re(marc)able, Marc Jacobs
- Correcteur Born This Way, Too Faced
- Instamarc, Marc Jacobs
- Blush Instain "Pinstrip", The Balm
- De-Slick Mattifying Powder, Urban Decay
- Illuminateur "Lucky Clover", Anastasia Beverly Hills
Sourcils
- Fard "Lemon Drop", Makeup Geek
- Fard "Matt Schiling", The Balm
- Fard "Black Dog", Urban Decay, en queue.
Yeux
- Shadow Insurance, Too Faced
- Fard "Naked" et "Buck" Urban Decay (Naked I), sur l'ensemble de la paupière.
- Eyeliner Liquid Ink, Essence
- Eyeliner UV "Dance Party", SUVA beauty
- Mascara Roller Lash, Benefit
Lèvres
- Rouge à lèvres New Yolk City, Lime Crime
- Fard "Lemon Drop", Makeup Geek
- Rouge à lèvres liquide "Black Cat", Pretty Zombie Cosmetics
Commentaires sur Goth Dance Party