18 décembre 2017
Vous êtes emo et vous avez envie de rester fidèle à vous-même pour survivre aux fêtes de fin d'année ?
Ça tombe bien, je vous propose aujourd'hui un maquillage ultra dark, mais dans lequel j'ai rajouté un max de paillettes. Ça donne tout de suite un air plus festif et l'illusion que vous passez un bon moment est parfaite. Ne me remerciez pas !!!!!!!!
Place aux photos.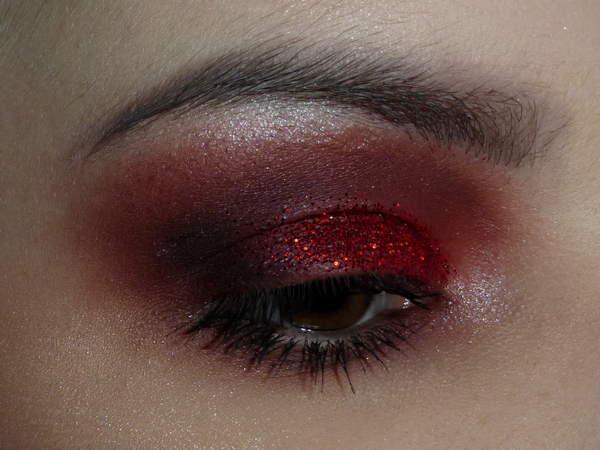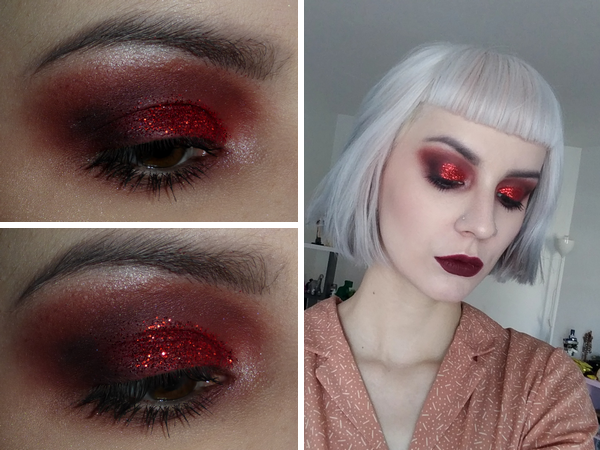 Produits utilisés
Teint
- Fond de teint Re(marc)able, Marc Jacobs
- Fond de teint Encre de Peau, YSL
- Correcteur HD Studio Photogenic, NYX
- Instamarc, Marc Jacobs
- Blush "Outlaw", NARS
- Mary-Lou Manizer, The Balm
Yeux
- Vivid Brights Colour Creme "Bad Blood", NYX, sur l'ensemble de la paupière.
- Fard "Sahara Dawn", H&M, en coin externe, dans le creux et pour estomper la paupière inférieure.
- Fard "Red Carpet", Sephora, en coin interne.
- Fard "Black Dog", Urban Decay, pour ombrer le coin externe.
- Fard "Matt Garcia," The Balm (Meet Matt Nude), sur la paupière inférieure.
- Fard "Satin Corset", Sephora, pour illuminer
- Crayon Aqua XL noir, Make Up For Ever, dans les muqueuses.
- Paillettes rouges sans marque
- Mascara They're Real!, Benefit
Lèvres
- Rouge à lèvres "Dahlia", Pretty Zombie Cosmetics